Roy Gripske and Sons is proud to announce our involvement with the 2016 V8 Ute Racing Series. We have taken the opportunity to increase our brand recognition through the major sponsorship of a Peters Motorsport V8 Ute for the duration of this year's racing calendar and the team will be known as RGS Racing.
We are proud to associate ourselves with such a professional team that consistently outperforms its competitors. V8 Ute no.68, with Kris "Killa" Walton at the wheel, won the 2014 championship and along with his Peters Motorsport teammate Ryan Hansford, is a regular attendee on the racing podium.
We see our partnership with Peters Motorsport as a reflection of our own dedication and commitment to delivering a winning experience for our dealer network. A primary factor in our decision to embark on this sponsorship deal was to leverage the exceptional public following of Australian car racing across the country to increase consumer awareness of our premium brands.
Our dealers have expressed the need for better brand recognition of RGS products to help facilitate the 'sell through' process. We at RGS acknowledge our role in creating market awareness of our premium products and as such have invested in this venture to help raise consumer knowledge of these brands. We will support this with other initiatives throughout the coming 12 month and beyond.
Please watch this space for updates throughout the 2016 V8 Ute Racing season.
Supercheap Auto Bathurst 1000
6 – 9 October
Ryal was shattered after driving in the 250km Dunlop series V8 Supercar race and then jumping straight into the Bushranger Power Equipment Australia, Australian V8 Ute Racing Ute. But after a slow start he was the fastest man around the mountain and raced hard to claim the round win.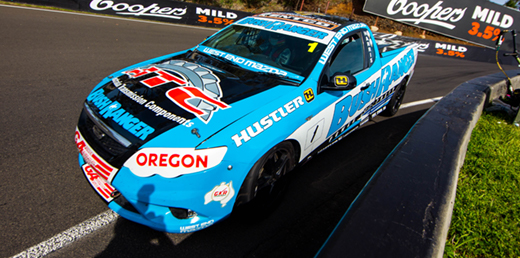 RGS Racing Ute being put through its paces on the iconic Bathurst circuit.
Bathurst Drive Day
The first outing for RGS Racing was a V8 Experience race day at Bathurst in early February. As we had only just signed up as the major sponsor, ute no.68's livery was basic and done in a hurry, but it made its mark.
Those lucky enough to make it to the day on short notice left with a smile.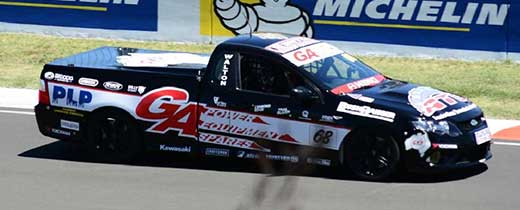 RGS Racing Ute being put through its paces down Conrod Straight as it makes its way around the world class circuit at Bathurst.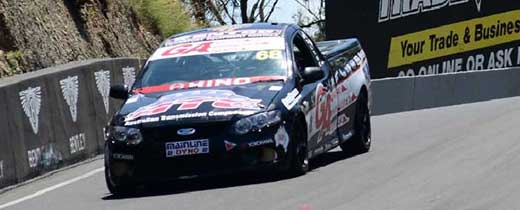 Coming off the top of the mountain, the RGS Racing ute is carefully guided through the 'Esses'. We don't want any panel damage prior to the start of the racing season in March!
Preparation for Clipsal 500 – Adelaide
25th February 2016
RGS Racing ready for its debut on the track!!
The car livery has been meticulously designed and completed to be a standout on the track! Our Bushranger brand dominates the side panels with Hustler making a statement on the tailgate. Many of our other brands are prominent on the car.
Onto the transport for the trip to Adelaide. Good Luck team!!!!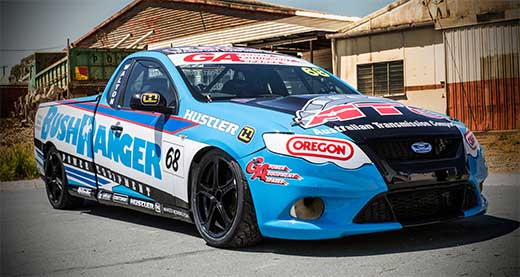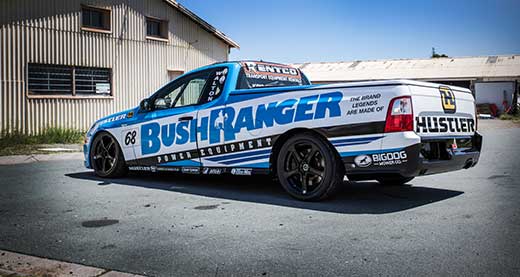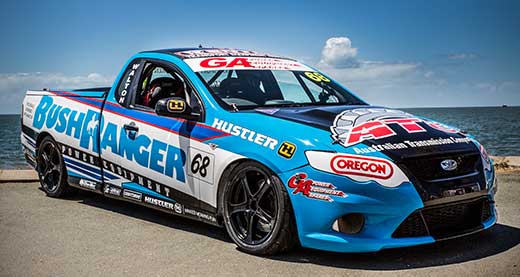 Clipsal 500
Adelaide 3rd to 6th March
RGS Racing had its debut in Adelaide with much success. After a weekend of action packed bump and grind the outcome was an overall 2nd place for the RGS Racing team. Kris 'Killa' Walton was hamstrung in the first two races after significant incidents led to much of these races being completed under a yellow flag.
The last day was a different story though as Kris worked his way up through the field in an impressive display of driving skills to chase down the race leader. What a race!!
Thanks to all of the RGS Racing team guests that attended over several days. A good time was had by all and there was a great opportunity to be in the thick of the action and celebrate with the team. Your support was appreciated.
Tyrepower Supersprint
Tasmania 1st to 3rd April
Another actioned packed weekend in the V8 Ute series. Symmons Plains, Tasmania hosted this race round and it is certainly a track that favoured the Holden Commodores more so than the Ford Falcons. However, as a testament to the Peters Motorsports team, the RGS racing ute finished equal second in overall points for the weekend with RGS's stable mate, Multispares racing finishing in first place overall.
With some mixed success in practice, Kris 'Killa' Walton started race 1 on the front grid. He quickly established his dominance of over the field and came home with an outright win in that race.
Race 2 saw a reverse grid and the Bushranger #68 ute was in a major on track incident that left the car worst for wear. Despite this, Kris managed to negotiate his way with a gutsy and determined performance from 15th starting position to 4th place. The team was left bruised and not just slightly battered and the maintenance crew had plenty of work to get on with to make the car ready overnight for a race 3 qualification and start.
Race 3 resulted in yet another tightly run race, Kris finished fourth in a battle between the top runners for the weekend.
Looking forward to Phillip Island in two weeks on a track that should really suit our racing style. Good Luck team.